Private Investigators License California Requirements
The following is general licensing information. Please visit the website for specific licensing detailed information, application forms, insurance requirements, education and training, fees, and any special licensing requirements.
Private Investigator License in California Requirements:
So you want to become a private investigator, or verify your investigator is licensed? Did you know, California requires that Private Investigators must have a license? The California Private investigators, P.I's, and Private Security Agencies are overseen by "BSIS" or the Bureau of Security and Investigative Services. The following are the requirements that must be met by an applicant to obtain a license in California.
• Age: Applicant must be at least 18 years or older.
• Citizenship: The applicant must be the US. Citizen or legal resident.
• Criminal Background Check: Undergo a criminal history background check through the Federal Bureau of Investigation (FBI) and California Department of Justice (DOJ).
• Fingerprints Check: Fingerprints check for a fingerprint-based criminal history record.

• Insurance: There is no insurance required in California.
• Disqualifications Automatically: There is no automatic disqualifications in California.
• Experience and Degree: Law degree or 4-year course in police science plus 2 years (4000 four thousand hours) experience; or
• At least three (3) years (6000 Six Thousand hours) investigative work experience or
• Associate degree in police science, criminal law, or justice, and 2.5 years (5000 five thousand hours) of work experience.
• Experience must be certified and received by employer while you were employed as a:
– Law enforcement officer
– Sworn Military Police Officer
– Insurance adjuster
– Worked as an employee of a licensed private investigator.
• Fees: The License fee is $175, The application fee is $50, Fingerprinting is $32 for DOJ, and FBI printing is $17.
• Registration Documents Required: A personal ID form, experience, business name authorization (if any), 2 passport-sized photos, and a payment receipt of a fingerprint scan.
Private Investigators Licensing Authority in California:
The Bureau of Security and Investigative Services is the licensing authority in California.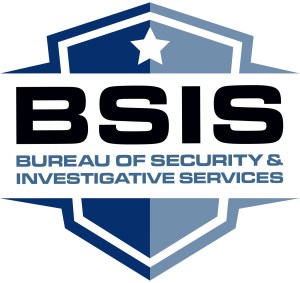 Bureau of Security and Investigative Services
West Sacramento, CA 95798
P.O. Box 989002.
Telephone: (916) 322 – 4000 or (800) 952 – 5210
Fax: (916) 575-7290
Website: www.bsis.ca.gov
---
---
Reciprocity Agreements:
The Bureau of Security and Investigative Services (BSIS) CA has signed limited reciprocity agreements with Florida, Georgia, Louisiana, North Carolina, and Oregon.
Find a Private Investigator near you! 
Our directory has useful resources for finding Expert P.I's Agencies, Verified Private Investigators. Moreover, if you are seeking how to verify a private investigators license in California or simply need a Private Investigator near you, then this directory will prove to be valuable resource.