Private Investigators Licensing Requirements for Louisiana
The following is general licensing information. Please visit the website for specific licensing detailed information, application forms, insurance requirements, education and training, fees, and any special licensing requirements. You must be licensed to operate as a Private Investigator in the state of Louisiana.
Investigators General Licensing Requirements:
You must be at least 18 years old
Must be a citizen of the US
Be fingerprinted
Pass a Federal Bureau of Investigation FBI background check, denial will occur from felony or misdemeanor convictions within the last ten (10) years
Have a minimum of three (3) years of experience gained while employed by a law enforcement agency or Private Investigation company
Pass an exam from a regulated test issued by the Louisiana state board of PI examiners.
Fee for License:
• The written exam fee is $50.
• The Journeyman fee is 342.50
• Individual Renewal Fee is $100
• Agency Renewal Fee is $250
---
---
Private Investigators Licensing Authority in Louisiana:
Authority Contact Information:
Louisiana State Board of Private Investigators Examiners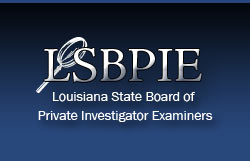 7414 Perkins Rd.
Suite No. 20
Baton Rouge, LA 70808
Phone #: (225)-763-3556
Fax #: (225)-763-353
Private Investigator Associations In Louisiana:
Once you paid the fee and obtain your license, now you are a Private Investigator, you should join the leading association in the state is the Louisiana Private Investigators Association. The Louisiana Private Investigators Association (LPIA) supports ethical practices in this profession of PI.
Reciprocity Agreements:
The Louisiana State Board has entered into full and limited reciprocity agreements with other states.
• Full Reciprocity States are Arkansas and Oklahoma.
• The Limited Reciprocity States are California, Florida, Georgia, North Carolina, Oregon, Tennessee, Virginia.
Find a Private Investigator near you! 
Our directory has useful resources for finding Expert P.I's, Agencies, and Verified Private Investigators. Moreover, if you are seeking information on how to verify a private investigators license in Louisiana or simply need a Private Investigator near you, then this directory will prove to be valuable resource.