New Hampshire Private Investigators Licensing Requirements
The requirements to get a PI's license in New Hampshire may change.  Below are a current list of the general requirements. Please visit the states website for the most up-to-date list of requirements.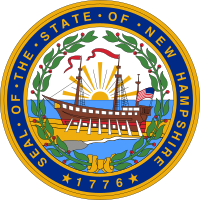 Minimum requirements:
Be at least 18 years old
Be a residents of the United States
Have no felony, domestic violence, or abuse convictions
Have no misdemeanor convictions associated with theft, honesty, fraud, or sale or use of controlled substances
Licensing Requirements:
(One of the following)
At least 4 years of experience in one of the following positions:

As a director of security or senior officer of a company or corporation or licensed security service
As a full-time adjuster, risk manager, or claims investigator for an insurance carrier or adjusting company
As a full-time law enforcement officer for a county, state, federal, college or university, or municipal police department

At least 2 years of employment as a full-time investigator for a private investigative agency AND one of the following:

An associate's or bachelor's degree in criminal justice from an accredited college or university
Certification from the American Society for Industrial Security as a certified professional investigator
Certification from the National Association of Legal Investigators as a certified legal investigator

At least 4 years of employment as a full-time investigator for a licensed private investigator or agency
At least 4 years of experience as a full-time experience as a full-time firefighter and certification by the International Association of Arson Investigator
---
---
Licensing Authority in New
Hampshire

:

PI's licensing in New Hampshire is governed by the Department of Safety

Office of  The Department of Safety
33 Hazen Drive
Concord, NH
Commissioner Robert L. Quinn
Assistant Commissioner Richard C. Bailey, Jr.
Assistant Commissioner Eddie Edwards
Associations:
New Hampshire League of Investigators
Find a Private Investigator near you! 
Our directory has useful resources for finding Expert P.I's. agencies, and Verified Private Investigators. If you are seeking to verify a private investigators license, or simply need a Private Investigator near you, then this directory will prove to be valuable resource.