Driscoll Investigations, Inc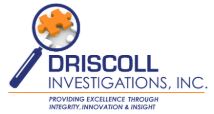 Overview
Providing excellence through integrity,
Innovation and Insight.
A full service private investigation agency offering a wide range of confidential investigative services to individuals, businesses, insurance companies and law firms throughout Massachusetts and New Hampshire. We offer a full range of services to suit your needs and budget. Whether your concerns involve marital infidelity or criminal defense, we have the experience, knowledge and resources to resolve your problems expediently and professionally.
We can help with: Criminal Investigations, Civil Investigations, Child Custody and Support Investigations, Infidelity/Divorce Investigations-Surveillance, Missing Persons, Background Investigations, and Asset Searches, Executive Protection, Armed Couriers and Escorts, Witness Locater, Vulnerability Assessments for Buildings, Workers Compensation, Slip and Fall/Personal Injury-Surveillance